In SURIS we care about proximity and want to be closely involved in the projects that we are part of.
For this reason, and to follow our policy of establishing ourselves abroad, we have set up permanent bases in three countries and carry out projects all over the rest of the world.
SURIS MOROCCO
SURIS COLOMBIA
SURIS CHILE
European Projects
Global Projects
SURIS MOROCCO
Suris Maroc SARL, was founded in April, 2011 and is based in the city of Casablanca.
In September of 2011, a "Groupement de Interet Economique" (GIE) agreement was signed with the company OMETEC.
We are currently carrying out projects in Marrakech, Fez and different locations.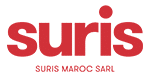 SURIS COLOMBIA
SURIS CHILE
European Projects
Global Projects